Posted on September 30, 2012 by dmayer
"Know the enemy."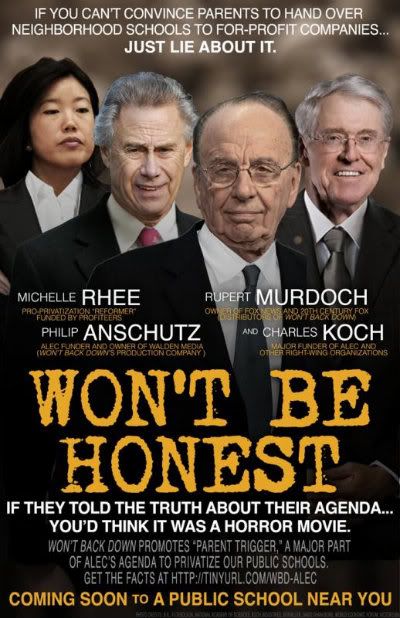 That's the only reason I went to see Won't Back Down. I already knew the movie was a schmaltzy propaganda piece produced by Walden Media, the same manipulators who had a hand in pushing Waiting for Superman as a solution to the education inequities of our public schools. I had read a review from fellow Parents Across America member, Leonie Haimson, Don't be fooled by "Won't Back Down"! It's no secret that the mighty wealthy in this country want to privatize our public schools for their own financial gain. It seems with all that money they could have produced a quality movie. Thankfully though, they didn't — currently the movie is rated 33% on Rotten Tomatoes. Four other people were in the theater besides me.
I'm including Leonie's synopsis here and then offering some of my own obervations — ones that irk me because they are needlessly false and blatantly divisive as well as some that are more obscure. Be sure to check out the FAQ for the facts about the Parent Trigger Law. From Leonie's review:
Last night I attended a screening of the controversial new film, "Won't Back Down" about a parent and a teacher who take over their "failing" public school. I have written a FAQ about the movie which is posted here. The film was produced by Walden Media, owned by right-wing billionaire Phillip Anschutz, who also co-produced "Waiting for 'Superman.'"

Advance screenings have been held around the country, organized by Michelle Rhee's Students First and other pro-charter lobbying organizations, to promote the "Parent Trigger," which allows a school to be turned over to a charter operator if 51% of the parents sign a petition calling for this. Here is a good analysis by the Center for Media and Democracy.

The movie itself is badly written, poorly acted, and full of exaggerated characterizations and unconvincing plot twists. Its message, transmitted with sledgehammer subtlety, is that the only reason that schools in poor communities are failing is because of incompetent lazy teachers who are protected by the union. The film also implies that in turning around a school, all that needs to happen in addition to getting rid of the union is to change the school "culture" which is done by scheduling more field trips and telling students that they can learn and go to college.

The two main characters, played by Viola Davis and Maggie Gyllenhaal, both have children who are struggling in school; one with dyslexia and the other [spoiler alert!] who towards the end of the film is revealed to be possibly brain damaged. Somehow getting rid of the union and converting to a charter school will magically help these kids learn; though in reality, many charters discourage parents from enrolling their children if they have disabilities, or are quick to push them out after they enroll.

The main villain in the film is the teacher of Gyllenhall's daughter. This teacher spends time playing with her cellphone during class, and prevents the little girl from going to the bathroom and then locks her in a closet when she wets herself. The evil parents and teachers who oppose the takeover of the school carry signs saying "Public school advocate" and "Taking over neighborhood schools destroys neighborhoods."
Here are some of my observations, some that bear repeating and some obscure:
1. Michelle Rhee is featured on a commercial before the movie begins begging the audience to send her money for StudentsFirst. Gag! (I want to tape her mouth shut and forget where she lives.)
2. As the movie begins in bold print across the big screen is this statement: This is a true story based on actual events. FALSE! If this story is indeed true, where is the school? Why aren't those parents and teachers promoting the film? The truth is that the Parent Trigger has not succeeded in turning around a single school. As I was leaving the theater, I overheard one woman saying to her friend, "It would have been nice if they had shown the real parents and teachers at the end of the movie." Maybe they will figure out they don't exist.
3. The Parent Trigger Laws do not require teachers to participate, hence the term "Parent Trigger." Without the participation of teachers, the film could not have trounced on teacher's unions. Pathetic.
4. There are bad teachers at the school. The apathy is rampant. It is the job of the principal to inspire or fire bad teachers. Unions cannot stop a principal from doing his/her job. The procedure is clear and effective if only utilized. It is in the best interest of effective teachers to have inadequate ones removed from the classroom. It is the job of the union to make sure that members receive due process before dismissal. I found the "dawn of the Deborahs" remark in referring to bad, tenured teachers who keep their jobs most offensive.
5. The Maggie Gyllenhaal mom character spots a young guy teacher line-dancing with his students in class at her daughter's school and decides he's a great teacher. (She later calls him the best teacher in the school.) He introduces himself as a Teach for America recruit. Even though he becomes somewhat romantically involved with Gyllenhaal, he won't support her takeover scheme because he needs union security. He turns out to be a union holdout right until the end. This is hilarious because Teach for America is all about union busting. They prohibit discourage their members from joining teacher's unions. I couldn't stop laughing.
6. The parents (and even the activist teacher) seem to think that students and teachers need to work a longer day. Teachers should also give students their phone numbers so they can call at home. Education reformers think longer school days, weeks, and years with teachers on-call are key to student success. They seem to forget that children are not short adults, but are, in fact, children who need time to play and relax, and that teachers have lives outside of work. More time spent in class does not improve the quality of teaching and learning, and teachers are not nannies.
7. Not once during the movie does Gyllenhaal try to help her daughter, who is socially insecure and academically challenged. We don't see her taking her child to the library, reading to her, finding a tutor, or inviting children over to play with her. We do know she feeds her candy and lets her watch TV a lot. She doesn't take any responsibility for her daughter's learning, nor does she encourage her daughter to, either. Teachers can't do it alone. Parents are the number one teacher of their children.
8. The movie began with Gyllenhaal's daughter (Malia) struggling to read in class — phonetically — and failing. It ended the same way with Malia struggling to read a simple message, this time in a convocation before the entire school — phonetically — and eventually succeeding. Really? I know they were going for the cute, upbeat ending, but really? Reading from a tattered paper that must have been read 100 times, Malia sounds out the final word, h-h-o-p, struggling painfully. Then, with great concentration, she corrects herself, HOPE. Cut, fade to black. Literally. She certainly didn't make much progress at the new school. A third grader, even with dyslexia, should be able to read the word hope, especially after having practiced it repeatedly. Neither her mother nor her teacher prepped her to make sure she knew her part before she took the stage? This is something good teachers do. We have many different strategies for teaching children to read, too. We imbue them with self confidence, and we make sure they are prepared for presentations. A teacher consultant could have saved the filmmakers the embarrassment of that last scene. But, teacher expertise is not recognized by the makers of this movie. They can't even recognize the absurdity of that scene.
9. Both Maggie Gyllenhaal and Viola Davis belong to unions that have won them the most fantastic salaries on the planet. When asked why they would agree to make a movie that bashes teachers and their unions . . . crickets. I hope they were paid royally for betraying their unionized teacher-sisters because I won't be paying to see them act again.
Stay home. Don't waste your money.
Here are some things you can do instead:
1. If you are interested in what parents can do in the face of horrid reform measures, watch a movie that exposes the real reform agenda The Inconvenient Truth Behind Waiting for Superman. It's now available online.
2. Be on the lookout for Parent Trigger Laws being introduced in your state legislature. Here in Oregon, I wouldn't be surprised to see Stand for Children proposing this ALEC legislation in Salem next session. I'll be watching. The reformers didn't produce this movie for nothing. EXPECT A RASH OF PARENT TRIGGER ATTEMPTS TO BE INTRODUCED IN LEGISLATURES ACROSS THE COUNTRY SOON.
3. Volunteer at your neighborhood school. See for yourself the state of OUR public schools. If you live in an affluent neighborhood, go to a poor school where many of the children live in poverty. Attend school board meetings. Oregonians can attend Oregon Education Investment Board (OEIB) meetings (although they are held during the day while you are working, you are welcome) to find out what Governor Kitzhaber and his Education CEO, Rudy Crew, have in mind for Oregon children.
4. Support adequate funding for all schools.
5. Become an activist by joining Oregon Save Our Schools, Save Our Schools, and Parents Across America.
UPDATE: "Won't Back Down" had the second worst opening weekend of any film in wide release (2500 screens or more) since 1982. The only worry is whether the right-wing producer, Philip Anschutz, will keep it in the theaters since he also owns the largest movie chain in the nation. And will Murdoch, the distributor, keep financing free screenings and claim them as tax-deductible contributions, to be able to offset some of his losses?
The reviews are out, the box office returns have been counted, and it's clear that the pro-charter propaganda film "Won't Back Down" is a huge critical and commercial flop.
More commentary on Won't Back Down:
Rethinking Schools
Won't Back Down won't be real about school reform
Last week I attended a local screening of Won't Back Down, the latest flick from the producers behind the controversial documentary Waiting for Superman. The film stars Viola Davis and Maggie Gyllenhaal as two moms of special-needs children, one also a teacher, trapped inside their failing public schools while battling an evil union leadership. They decide to take advantage of a state law called the FailSafe (known as the "parent trigger" in most states) in order to take over their public school, close it down, and re-open it under their personal and private management.
From the ultraconservative National Review.
Critics Try to Flunk Won't Back Down
It's not often that a major Hollywood movie with Academy Award–nominee actors gets picketed. But that's what happened last week at the New York and Los Angeles premieres of Won't Back Down, which stars Maggie Gyllenhaal and Viola Davis as a parent-teacher duo who use a "parent trigger" law to take over a failing public school, beating back the determined opposition of bureaucrats and the teachers' union along the way. Those unions aren't amused, and turned out dozens of protesters to complain the film treated them unfairly.
Salon.com
"Won't Back Down": Why do teachers' unions hate America?
"Won't Back Down" is an offensive, lame, union-bashing drama, which somehow stars Viola Davis and Maggie Gyllenhaal. So teachers' unions don't care about kids. Oh, and luck is a foxy lady. This is what I took away from the inept and bizarre "Won't Back Down," a set of right-wing anti-union talking points disguised (with very limited success) as a mainstream motion-picture-type product. Someone needs to launch an investigation into what combination of crimes, dares, alcoholic binges and lapses in judgment got Viola Davis and Maggie Gyllenhaal into this movie.
Center for Media and Democracy's PR Watch
"Won't Back Down" Film Pushes ALEC Parent Trigger Proposal
Well-funded advocates of privatizing the nation's education system are employing a new strategy this fall to enlist support for the cause. The emotionally engaging Hollywood film "Won't Back Down" — set for release September 28 — portrays so-called "Parent Trigger" laws as an effective mechanism for transforming underperforming public schools. But the film's distortion of the facts prompts a closer examination of its funders and backers and a closer look at those promoting Parent Trigger as a cure for what ails the American education system.