Posted on May 13, 2012 by dmayer
This is the mission statement of UPSET, the newly formed activist education organization in Portland, Oregon, but it could well apply to many as school districts across the country deal with the austerity posed by shrinking funds available for education.
We are a school community in crisis – we no longer believe that the State of Oregon can deliver the resources needed to facilitate a proper educational environment in our schools. We are teachers, parents, and students who have decided to take action directly and together as a community. We will not stand by and silently let any more resources be taken from our schools; resources our communities' youth so desperately need to give, thrive, find fulfillment, and lead in the 21st century.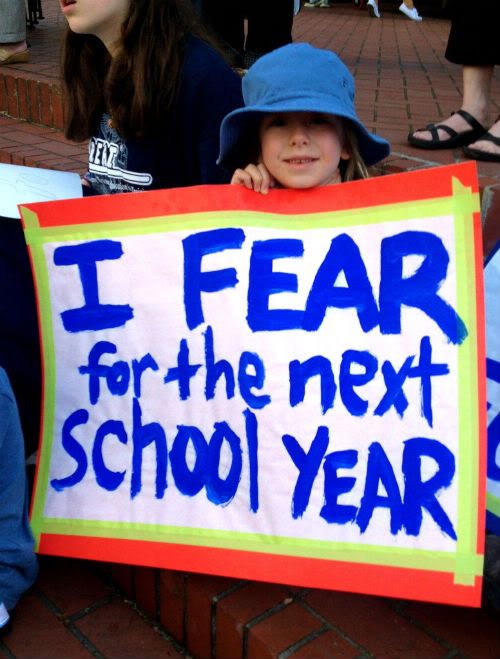 According to the Statesman Journal:
Portland Public Schools official Matt Shelby commented on the march: "We understand that people are frustrated. Certainly, we're frustrated. At the end of day, school funding goes downhill, decisions made at the state level translate into a budget gap at the district level and that translates to the building level. Decisions made in Salem have a real impact on teachers and parents."

Shelby said that the district is working to try to curb cuts. The district is facing a $27 million shortfall in next year's budget. He said a tentative agreement has been reached that would use $5 million from Portland Mayor Sam Adams' pledge toward Portland Public Schools. The Portland School District has also pledged $2.65 million from salary reductions for administrators and another $2.65 million from teachers who are delaying a salary increase by six months in the agreement. All of that is meant to save 110 teaching jobs and cover $10.3 million in staffing cuts.
UPSET (Underfunded Parents Students and Educators Together) rallied May 11th in Pioneer Courthouse Square to protest PPS budget cuts. The protest began at the Rose Quarter where over 800 people met to march to the city center.
We are UPSET:
Once at Pioneer Courthouse Square, the U.P.S.E.T. rally begins. Students and parents comment on the effects of 20+ years of education funding cuts in Oregon (with a musical interlude provided by students from Atkinson, Buckman and Sunnyside elementary students).
Saving the best for last… Three PPS students present spoken word pieces, Grant High School history teacher Don Gavitte gives his closing remarks. Stick around until the end for the poetry slam. The impassioned words and delivery of three young high school girls is awe inspiring.
The momentum is building to fund our public schools adequately. Oregon Save Our Schools is calling for a statewide May 31st Action Day to demand that government officials provide an excellent education to all Oregon students. Are you listening Governor Kitzhaber?