Posted on November 30, 2012 by dmayer
Perhaps you'd like to give a book, a chair, a shelf, or an entire collection to enhance a library or classroom. Wouldn't we all love to give children a place like this one to read and study! Donors beware! Do a little research to make the most of your donation dollars.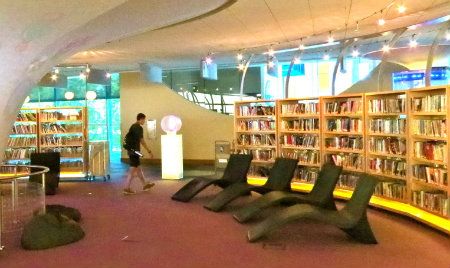 Donorschoose.org, founded by a Teach for America alum, has received much hype and media attention. In theory, it is a great idea, but this nonprofit generously helps itself to your contributions. The many notable supporters who promote this organization should demand that it be more fiscally responsible and that more funding be spent on teachers' requests. Donors beware! Think twice before giving.
From the Donorschoose web site:
Our mission: DonorsChoose.org engages the public in public schools by giving people a simple, accountable and personal way to address educational inequity.

Our vision: We envision a nation where children in every community have the tools and experiences needed for an excellent education.

Here's how it works:

1. You give to a classroom project.
2. We deliver the materials to class.
3. Kids learn and show it in photos and thank you notes.
It sounds simple and generous. Oprah Winfrey chose it as one of her Ultimate Favorite Things in 2010. Stephen Colbert is on the board of directors along with several other notable people. It seems like a good way to connect people with money to classrooms in need.
EXCEPT, much of the money donated never makes it to the classroom. Of the nearly 33 million dollars donated last year, only 25 million was spent on classroom materials. Nearly 25% was spent on administrative and other costs. According to the organizations 990s:
Over the past six years, DonorsChoose.org collected over $101 million dollars, but less than $70 million was spent on classroom materials.
In 2011, Donorschoose paid 12 employees salaries of over $100,000. That's way too many. One would be more than enough. This isn't rocket science.
A total of nearly $3,000,000 went to 41 other employees. That's roughly $73,000 each. That's way too much, especially since volunteers are said to do much of the work.
Over $180,000 was spent on travel. That's way too much — nearly $3,500 per employee. Why would such a small charitable organization spend so much on travel? Ever heard of Skype?
Here's a better idea for the contributor. Donate directly to a teacher. Find out what your favorite teacher needs and get it for her: a class set of novels, science supplies, props for a school play. If you don't have a teacher connection, donate directly to your school district's foundation. Much more of your money will benefit the teachers and students you want to support.
Find out more about Donorschoose.org at Edwatch.