Posted on February 05, 2013 by dmayer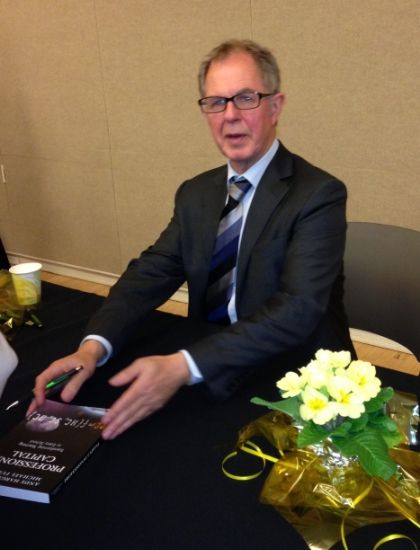 Professor Andy Hargreaves was welcomed by Portland State University President, Wim Wiewel, who talked in vague terms of Governor Kitzhaber's pipeline to streamline Oregon education from cradle to career. He emphasized the ambiguity of the plan saying, "Where are all the boxes?" We don't know yet. And, "Who or what will live in those boxes? We don't know." Hargreaves was introduced as someone to help figure this out.
What had been billed as a lecture turned out to be a 30 minute book talk followed by a short Q & A and book signing. Here are some key points from Hargreaves' newest book, Professional Capital, co-authored with Michael Fullan, as noted in his presentation.
In his opening remarks, Hargreaves focused our attention on transforming teaching in every school. His formula: PC = f(HC,SC,DC).
"Teachers, along with parents, are the most important people in our lives. It's the teacher, stupid." he said.
He elaborated on the system we now have in place that knows only two strategies: to either reward or remove teachers. Then he said something that experienced teachers have known all along. He said in all the mountains of data collected on teacher quality and tying kids' tests scores to teacher evaluations, reliable numbers correspond to principals' judgements. Let me say that again with emphasis: He said principals are the best evaluators of teacher performance. Just as research shows that the grades a teacher assigns to a student are the best indicator of how that student will do in college (Krashen), the judgements, or evaluations, principals assign to a teachers are only reinforced by data. (One might ask why we are wasting extraordinary amounts of money on a system that tells us what we already know.)
Although I agree with much of what Hargreaves says, I am not comfortable with the language and presentation of his ideas. For example, his method of defining every idea in terms of "capital." I have a strong aversion to using the word "capital" to describe human worth since I first came across this website: Strategic Management of Human Capital some years ago. The site elaborates in no uncertain terms the value and manipulation of human life in monetary (capital) terms. Knowing that as a teacher, I am thought of as human capital forces me, on some level, to think of my students in those terms, when for decades that thought had never entered my mind. Maybe this is a compromise educators must accede to these days in order to gain a foothold in today's profit-driven, business-dominated education environment. I think the price is too dear.
In the words of Hargreaves:
Capital relates to one's own or group worth –particularly concerning assets that can be leveraged to accomplish desired goals.
Business capital assumes that good teaching:
is technically simple
a quick study
can be mastered readily
should be driven by hard performance data
is about enthusiasm, effort, talent, and results
is replaceable by online instruction.
He then likened  so-called "teachers" produced in droves by organizations like Teach for America, The New Teacher Project/Center, and Teaching Fellows programs as delivering curriculum "karaoke style" — to applause from the educators in the audience.
Professional capital as it pertains to teaching:
is technically sophisticated and difficult
requires high levels of education and training over a long time
is perfected through continuous improvement
is a collective accomplishment
maximizes,mediates, and moderates online instruction
"Technology and teachers work well together.  One should not replace the other," he said.
Hargreaves defines three other types of capital as a subset of professional capital: human capital, social capital, and decisional capital.
Human capital involves qualifications, knowledge, preparation, skills, and emotional intelligence.
Social capital involves trust, collaboration, collective responsibility, mutual assistance, professional networks, and a healthy amount of push, pull, and nudge to reach goals.
Decisional capital involves judgement, case experience, practice, challenge and stretching, and reflection.
Notably absent from this discussion is the idea of how cultural capital including race, ethnicity, socio-economic, and other conditions, factors into education.
Hargreaves mentioned Finland as an example of a country that reveres teachers as professionals. In 1992, Finland had an unemployment rate of 19%. Proactively, officials decided to invest in education by investing in teachers. Every teacher in Finland must earn a master's degree before entering the classroom. Teachers are highly qualified in the true sense of that concept: knowledgeable, prepared, skilled, and emotionally intelligent. They earn the trust of their respective communities, and together with members of the community collaborate, take collective responsibility, mutually assist each other, create professional networks, and help each other to reach goals. Based on case experience, practice, challenges, and reflection they are able to make judgements on how to meet goals. Now fifteen years later, Finland's education system is hailed as the finest in the world.
Fifteen years ago, the Finns did not articulate their education goals in terms of capital. They did not think of their children or teachers in terms of human capital. Using the definition of humans identified as capital, how difficult will it be for us to give children in our state or country the education they need and deserve? Do the same attributes that worked so well for the Finns take on a new and different meaning when we define ourselves as capital?
He gave a statistic that I find unbelievable. He said that in this country the average time spent in the classroom by new teachers is one year before leaving. (GASP from audience.) I have not been able to confirm that statistic.
Near the end of his talk, Hargreaves announced that he would be working on the governor's vision of cradle to career. He said that he would be working with Education Northwest, Inc., which had just been awarded a $1.8 million grant for continued support of their work. He is part of the pipeline created by the OEIB that promises to do more with less. From Education Northwest:
As Secretary of Education Arne Duncan pointed out, NWRCC (Education Northwest) and the nation's network of comprehensive centers "will help low-performing schools and districts close the achievement gap. They provide valuable support of the Administration's P–12 initiatives to ensure that every child is able to receive a high-quality education."
Hargreaves mentioned vaguely these as some of the goals for Oregon:
a smaller number of schools in districts to promote social capital
tighter faculty groups, and a smaller number of groups to promote decisional capital
higher standards for accreditation
On testing:
test prudently, not profitably
do not test every student in every grade every year
do test less people less often and give better tests
"We are not at a stage to give up testing altogether as Finland has done," he said.
He left us with this quote from Nelson Mandela:
There can be no keener revelation of a society's soul than the way in which it treats its children and their teachers.