Posted on October 09, 2011 by dmayer
The pundits say Occupy Wall Street is immature, that the occupiers don't have a coherent message. Anyone listening, paying attention, and thinking knows that isn't true. Portlanders seem to be of one mind on the subject. We can imagine 24 million unemployed people finding jobs. We can imagine 50 million people who can't see a doctor having health care. We can imagine million of people who have lost their houses having a nice place to call home. We can imagine millions of hungry men, women, and children having enough to eat. And, we can imagine WAR NO MORE.
On this October 9, 2011, thousands of high-spirited Portlanders took to the streets to peacefully march and protest corporate greed as we sang along with John Lennon on the day that would have been his 71st birthday. I dedicate this diary to my son who was also born on this date and want him to know that this is not the world I had imagined for him.
Listen to John Lennon sing Imagine and join our march.
Imagine there's no heaven, it's easy if you try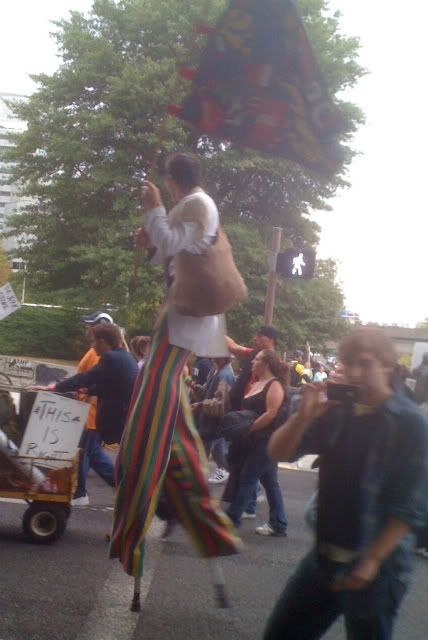 No hell below us, above us only sky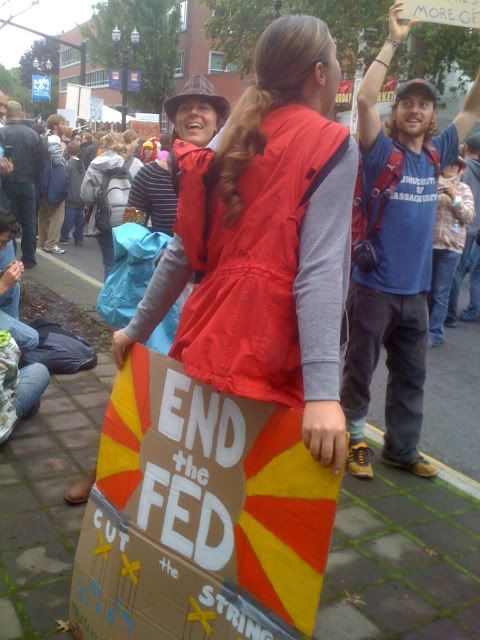 Imagine all the people living for today
Imagine there's no countries, It isn't hard to do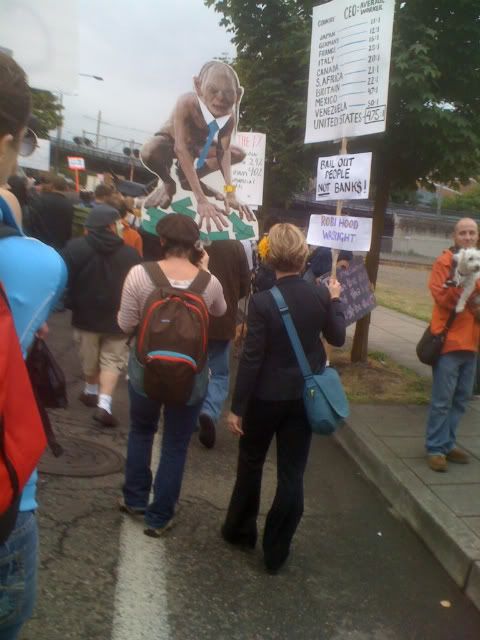 Nothing to kill and die for, and no religion too
Imagine all the people living life in peace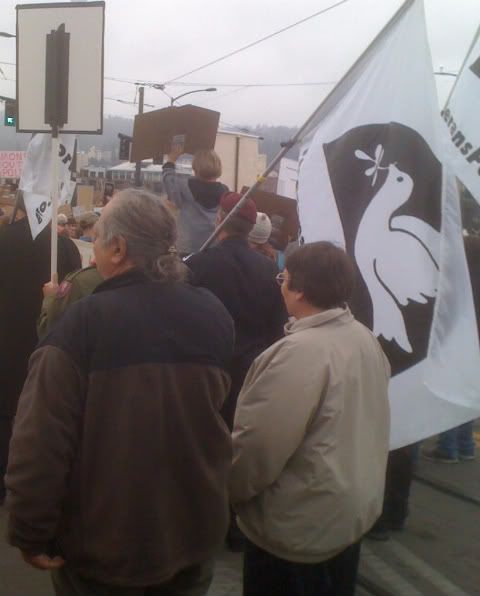 You may say I'm a dreamer, but I'm not the only one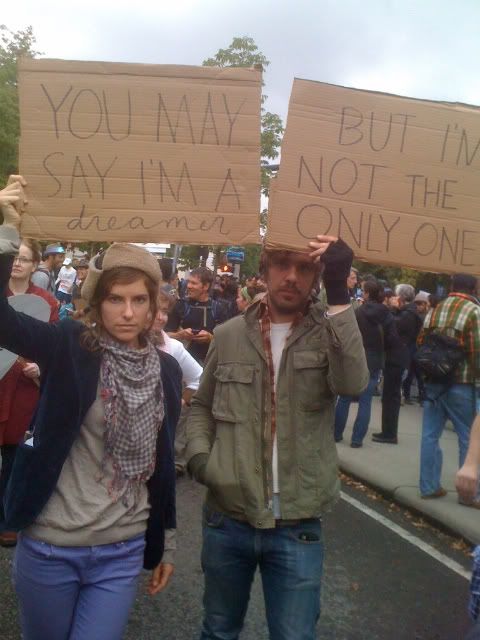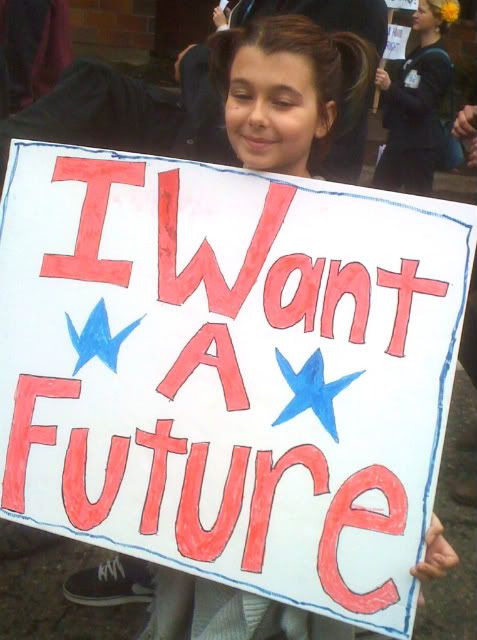 I hope someday you'll join us and the world will live as one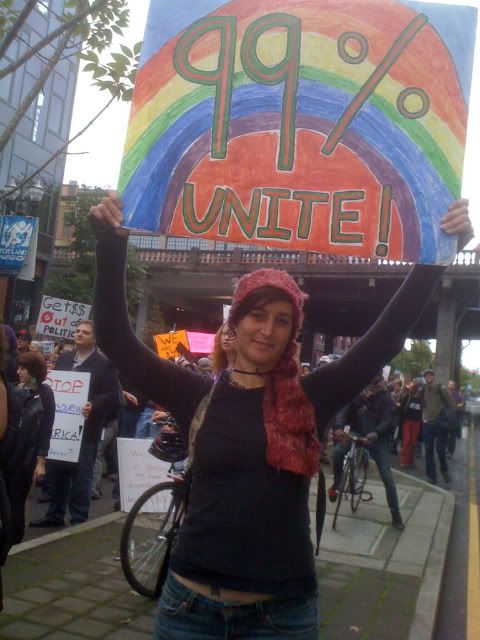 Imagine no possessions, I wonder if you can
(My school can't afford a librarian.)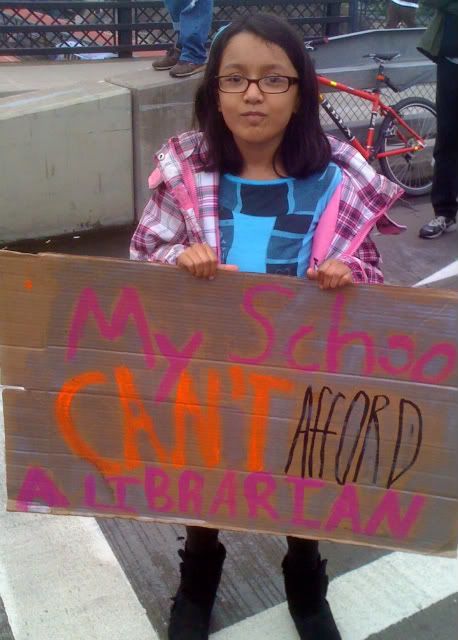 No need for greed or hunger, a brotherhood of man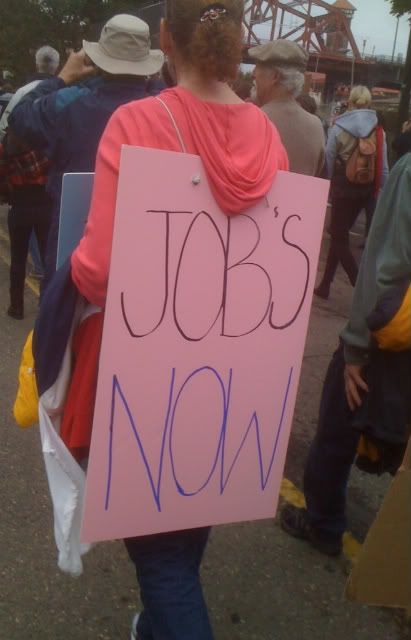 Imagine all the people sharing all the world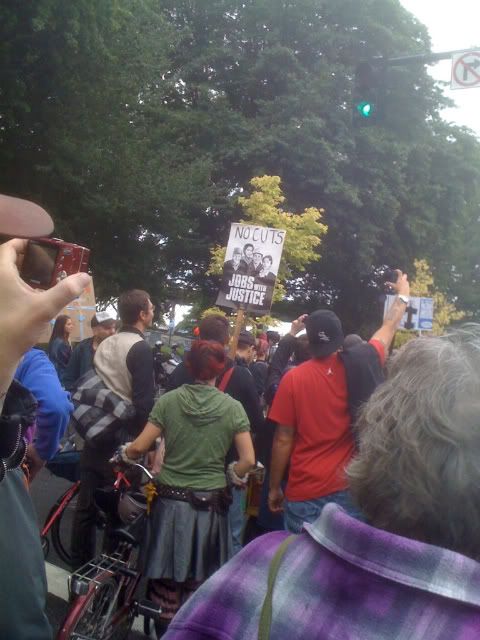 You may say I'm a dreamer
But I'm not the only one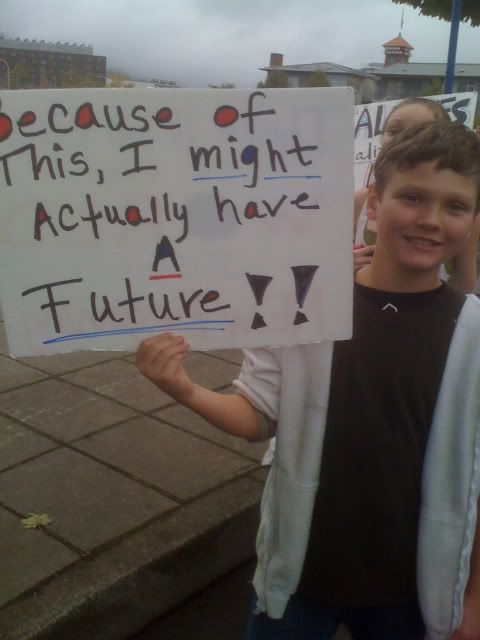 I hope someday you'll join us
And the world will live as one
We live in a kleptocracy. Kleptocracy, or rule by thieves, is a form of political and government corruption where the government exists to increase the personal wealth and political power of its officials and the ruling class at the expense of the wider population.
The money that kleptocrats steal is often taken from funds that were earmarked for public amenities, such as the building of hospitals, schools, roads, parks and the like – which has further adverse effects on the quality of life of the citizens living under a kleptocracy. The quasi-oligarchy that results from a kleptocratic elite also subverts democracy. This is the America we live in today.
We, the occupiers, want banker-thieves to pay for their crimes. We want a government that protects its people and the planet. We want a healthy, happy, secure future for our children. The message couldn't be clearer.
JOHN LENNON
"Imagine"
Imagine there's no heaven
It's easy if you try
No hell below us
Above us only sky
Imagine all the people
Living for today…
Imagine there's no countries
It isn't hard to do
Nothing to kill or die for
And no religion too
Imagine all the people
Living life in peace…
You may say I'm a dreamer
But I'm not the only one
I hope someday you'll join us
And the world will be as one
Imagine no possessions
I wonder if you can
No need for greed or hunger
A brotherhood of man
Imagine all the people
Sharing all the world…
You may say I'm a dreamer
But I'm not the only one
I hope someday you'll join us
And the world will live as one