Posted on September 11, 2011 by dmayer
This is a David and Goliath story. viagra started calling the Apple Story to complain about their new campaign back in July.The promotion went like this:
Do you own an original iPad that you no longer need (pfft, original iPads are so 2010), but have no plans to resell? Apple may have a solution for you: the company has begun promoting a new donation program that will put old iPads to good use through the Teach for America program.

Teach for America takes well-trained teachers—referred to as "corps members"—and places them in one of 39 urban and rural regions across the country that are identified as low-income. The volunteers agree to teach in those areas for two years with the goal of providing a higher-quality education to low-income students. And, according to Teach for America's website, recent research shows that its corps members are "more effective than other teachers, including certified and veteran teachers."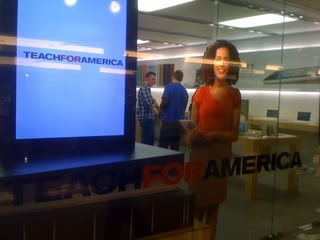 Misinformation about the campaign was plastered all over the Apple website — lie after lie — and also at the Teach for America website. I was incensed. I called Apple.
After being passed around on the phone from one corporate office to another, I finally asked Jerry in marketing if Apple knew that Teach for America recruits weren't really teachers — that their claim of "Teach for America takes well-trained teachers—referred to as "corps members"— was completely false, and that the campaign was deceptive. I said it would be great if Apple were offering donated iPads to real teachers, but the company is misleading donors when it tells them their donation will go to a Teach for America "teacher."
The marketing guy then said this. "We paint with a broad brush when we use the term teacher." He said he considered himself a teacher because he taught people stuff sometimes. I asked him if he had studied to become a teacher or if he had ever taught in a classroom. He said "no." Then you are not a professional teacher I said. I went on to say I thought the campaign was a fraud and that Apple was giving legitimacy to an organization proven to do real harm to children. He said my complaint would be noted.
Over the next few weeks I talked to other teachers about Apple's promotion of TFA, especially when I went to the Save Our Schools March. We should protest I said. Parents Across America in Seattle was the first to organize.
An Apple a Day for TFA:

Portlanders were readying to protest next. EXCEPT . . . this is the e-mail message I sent to my group shortly before the demonstration was to take place.
Hello TFA protesters:

I spent the past few days being passed around to from one Apple corporate office to another trying to get more information about the campaign. I asked specifically how long the TFA displays would be up and was told through September. I was told repeatedly by Apple that the TFA campaign was an ongoing thing and would continue as long as people wanted to give up their iPads. I also investigated the legalities of having a protest at the mall. Imagine my surprise when I went to the mall to talk to the appropriate contact about our protest and noticed the entire display had been removed.

So I asked a Genius why the display had been taken down. He didn't know. He said usually they are told beforehand when one campaign ends and another begins, but they had just come to work and the display was gone. He tried to access information on the internet and got this — access denied: http://www.teachforamerica.org/ipad The campaign main page still exists here http://www.apple.com/retail/teachforamerica/, but all the supporting information about the program has been removed.
The next day all evidence of the TFA promotion was removed from both the Apple and TFA websites. Just like it never happened. You can still find evidence of it on other sites.
I don't know why Apple decided to end the campaign so abruptly. I want think it was because a small group of people challenged them on a program that was truly indefensible and reprehensible. One battle at a time will win this war against teachers and public education. The fat cats are vulnerable when they think their deceitfulness and lunacy may be exposed to the greater public. I'll take this small victory. I'm claiming it as a success.